Building Your Branded Bail Calculator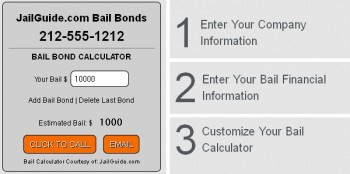 Are you a bail bond company looking for an edge to your online marketing? You're probably looking for a way to allow your potential clients to figure their costs for bail, well, look no further. Our free bail bond calculator allows you to place your company name, phone number and emergency contact buttons while also offering your clients the ability to enter more than one bond amount.
The JailGuide Bail Bond Calculator allows you to enter all charges for any amount of bonds. This includes your office fees and any state or court fees often attached to the bail bonds you write.
Get started by entering your company information; enter the bail bond costs and finally, dress your bail bond calculator to match the design of your website. Once complete, preview the calculator then grab the code and paste onto your own website.
If you get stuck along the way, no worries, look for the (?) to help answer your questions.
Of course if you get stuck or you don't know how to make it all work you can certainly contact us for assistance at any time.